© Seagull Photo & Design 2000-12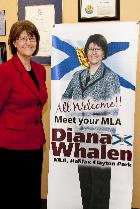 Seagull Photo & Design has been partnering with the Nova Scotia Lung Association for over 10 years. Here are a few of the campaigns.
Capital Paper of Kentville in the Annapolis Valley are wholesalers of paper products, such as paper plates, toilet paper, as well as janitorial supplies to businesses. They approached Janet about designing and laying out a 144 page catalogue. Here's the stunning result.
Seagull Photo & Design has always had a relationship with Dalhousie University. Whether it's brochures for Dal Hockey or brochures and web pages for the Continuing Education Department, it has had a spectacular consequence.
When Glooscap apples were looking to rebrand their apples, they turned to Janet. The result was a new and exciting concept, Wink apples. Incredible result. Spectacular modern name and design.
The Golf Club Book is a member booklet offering fantastic discounts on golf courses and driving ranges throughout the Maritimes. Priced at $50, this booklet is purchased season after season by golf enthusiasts of all skill levels for its excellent value.
But, it is children struggling with lung disorders like asthma that are the true winners of this fundraiser. All booklet sales benefit Asthma Aware and the popular Camp Treasure Chest.
Country Hearts stickers add a special touch to Valentine's Day.
Since 1989 children ages 8 – 12 years with moderate to severe asthma have enjoyed of Camp Treasure Chest. It features all the activities, independence and self-esteem building of a traditional summer camp!